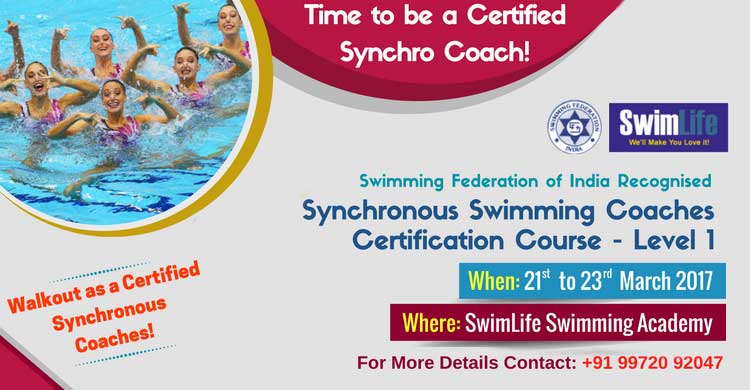 SFI Announces Synchronized Swimming Coaches Certification Course Level - 1 in Bangalore
Bangalore is set to host the 1st Synchronized Swimming Coaches Certification Course (Level 1) under the auspices of Swimming Federation of India (SFI) in association with SwimLife.
The certification course is specially crafted for the Coaches in India, who aspire to learn and become a Certified Synchronous Swimming Coach. The certified coaches can create a new platform for the swimmers to learn and excel in synchronous swimming.
Synchronized swimming is an unexplored sport in our aquatic sports in India. This sport has one of the biggest potentials in Asian and World level for all our swimmers.
Training theme of the Course:
Organisation and improvement of knowledge and skills in synchronized swimming.
Registration Form
Circular
Course Details:
Date: 21st to 23rd March 2017
Timings:
Theory: 9:00 am to 12:00 pm
Practical: 3:30 pm to 6:00 pm

Venue:

SwimLife Swimming Academy, 43, 12th Cross, Ram Mandir Road, S R Nagar, Bangalore 560027

Course Fee:

Rs. 12000/- (No Lodging)
Rs. 15000/-(With Lodging)

Mode of Payment:

Course fees to be sent by DD in favour of SwimLife, payable at Bangalore

Benefit:

All Participants will be provided with a Certificate and an authorised SFI Synchro Coach ID cards

Purpose:

Exchange of experience and training techniques on basic moves in synchronized swimming
Learn the basics of Rules & Regulations
Learn the basics of Scoring

Application Form should be sent to the below Address:

SwimLife 43, 12thCross, Ram Mandir Road, S R Nagar, Bangalore 560027

Last date for Registration:

16th March 2017 (with payment)

The above clinic will be conducted under 2 Synchro Experts

Ms. Amina Yermakhanova & Ms. Aigerim Issayeva from Kazakhstan(Russia) who are the best in the world.

Their achievements are:

Masters of Sport with an international degree in synchronized swimming
Absolute champions of the Republic of Kazakhstan in synchronized swimming
World Championship participants, 2009, 2011, 2013, 2015
Summer Asian games bronze medalist, 2014, Incheon, South Korea
World Championship finalists, 2011, Shanghai, China
Summer Asian games bronze medalists, 2010, Guangzhou, China
World cup finalists, 2010, Changshu, China
Triple medalists of Asian Championship in Dubai, UAE, 2012
Summer Asian games participants, 2006, Doha, Qatar
2008 – 2016 Members of the national team of the Republic of Kazakhstan in synchronized swimming